This is not a spoiler: we all knew that Ghostbusters: Afterlife was going to be Egon Spengler's story.
If you've seen a single trailer, commercial, or movie poster, you knew this already. The tall and gangly Finn Wolfhard, the bespectacled McKenna Grace with her mop of curly dark hair – the quote that's plastered everywhere in relation to the movie.
"Your grandfather was a Ghostbuster."
Of course, Harold Ramis passed away in 2014. Ramis had aspirations to release a third Ghostbusters film prior to his death, admitting to his desires in a 2009 interview. Sadly, the illness that ultimately claimed his life hit in 2010, robbing him of that chance when Ramis passed away in 2014, leaving us with nothing but goodbye and a hole in our hearts where the laughter he brought us once lived.
That's the thing about Ghostbusters, however: as powerful and as beloved as it has always been, it always stayed true to itself.
A brainchild of both Ramis and Ghostbusters co-star as well as co-writer, Dan Aykroyd, the franchise prided itself on combining genuine drama, supernatural intrigue, intelligent writing and ridiculously fun comedy to create something bigger than the sum of its parts. The first two films succeeded as both popcorn flicks and genuine thinkers: they entertained flawlessly, and at the same time questioned everything from authority and politics to the very nature of the human condition.
That's why, even with five years between films, it stayed relevant. That's why it spawned cartoons, video games, and comics despite limited source material. That's why, controversy and reception aside, the all-female reboot attempted in 2016 inspired such passionate discourse, for and against.
Ghostbusters never tried to be a cash cow, and yet it was. When it had something to say, it did. When it had a fresh means of entertaining the masses, it produced it.
So with one half of the team that gave us Ghostbusters in the first place being gone, being dead, is there any entertainment value left? What else can this property have to say?
One word. The last word, one wrapped up in two hours of lovingly crafted special effects, dialogue, and storytelling via a script co-written by Afterlife director Jason Reitman, son of original Ghostbusters director Ivan Reitman.
One sentiment, captured in a story Jason Reitman credits reboot writer Paul Feig with making possible: the story of a young girl looking into the past to discover who she is, and the secrets that even Egon Spengler keeps locked up tight, safely protected from the rest of the world.
One final thing needed so desperately, that it was given form on the big screen with the return of the original cast from the first film – not to keep the ghosts away, but to give them long and lasting life.
Ghostbusters had one thing left to say, and that was goodbye.
Ghostbusters: Afterlife is a legacy. It's a memorial to Harold Ramis, a tribute to Egon Spengler, the character he brought to life, and a loving shrine erected to the franchise he helped create. What's more, it was packaged just so, with a new generation of underdogs to root for and a promising future for an iconic, beloved character that we thought we would never see again. What some call fan service, I call memory. What others see as excessive callbacks, I see as exposition, educating a new generation of fans on the lore of this world just enough to make them seek the first two films out.
Jason Reitman has been quoted as saying that Ghostbusters: Afterlife was meant to give Ghostbusters back to the fans, and it did. Right up to its unconventional ending, it gave back, and gave Ghostbusters to a new generation that will keep it alive for another forty years.
Above all else, it reminded us why this franchise never told a story too soon, and could never tell a story too late: because there's always a place for Ghostbusters. The humanist beliefs of Ramis, which appear in nuance within even Ghostbusters: Afterlife, are as critical to look at now as they ever were. The time honored story of the underdog looking for a break will always be relevant. We always need to laugh, we should never stop thinking, and one of the greatest tools of science is that of imagination.
Ghostbusters: Afterlife is not a movie, but rather the spirit of Harold Ramis as it was always meant to be shared, preserved in film so that he, and the core of his work, will live forever.
That no matter what, in all things – even in death – there is always room for a happy ending.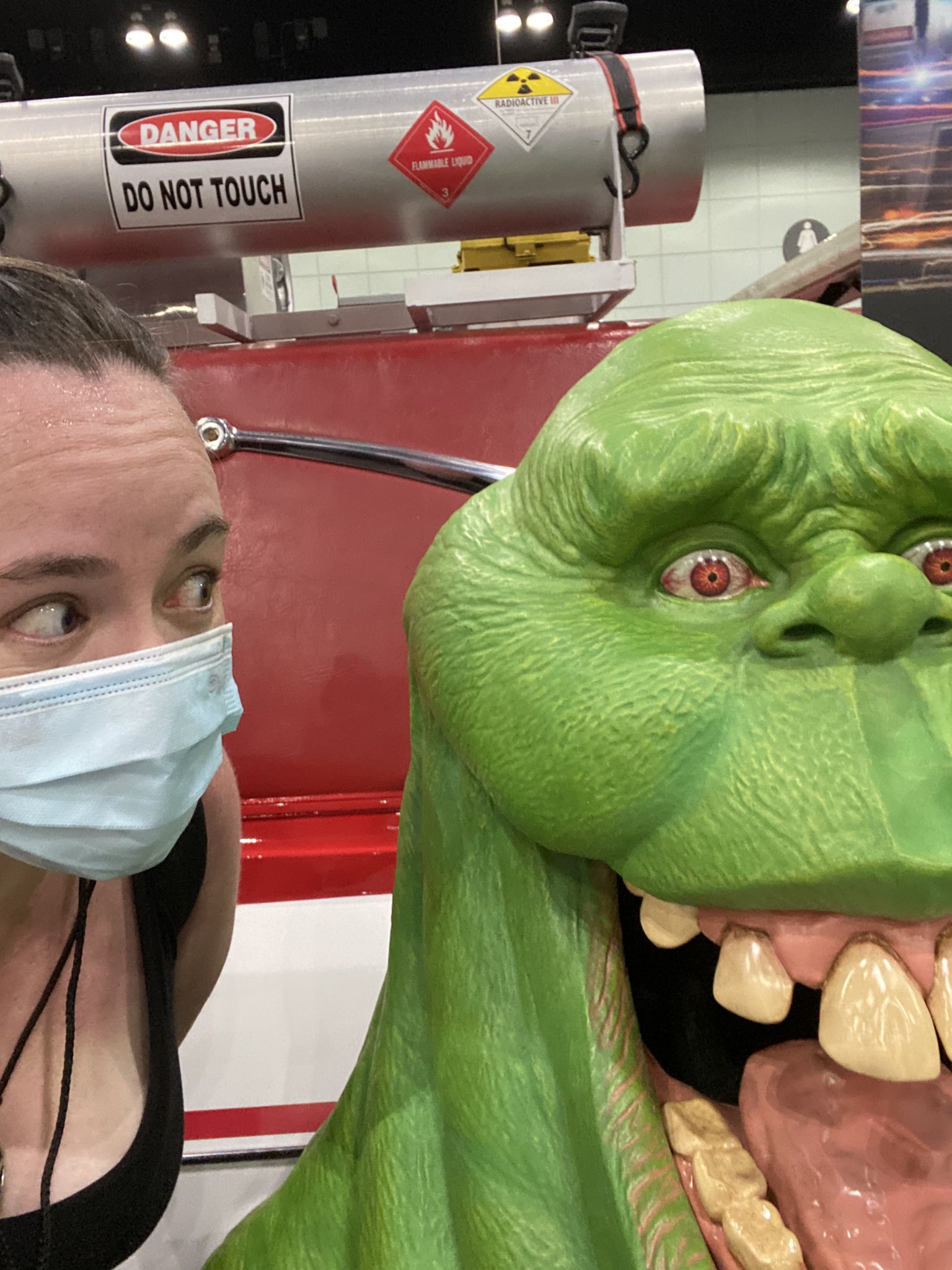 -30-
Elizabeth Carlie
Liz Carlie (she/her/he/him) is a regular book, TV, and film reviewer for SCIFI.radio and has previously been a guest on 'The Event Horizon'. In addition to being an active member of the traditional fandom community, she's also an active participant in online fan culture, pro wrestling journalism, and spreading the gospel of the Marvel Cinematic Universe. She resides in Southern California with her aspiring superhero dog, Junior, enjoying life one hyperfixation at a time.