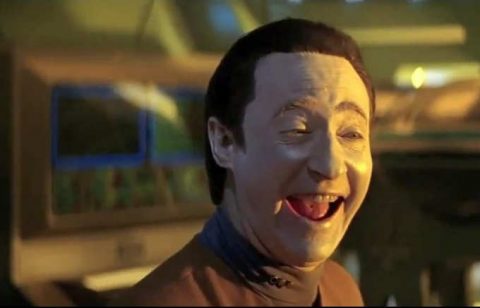 February 2 is a busy day on the calendar: Groundhog's Day. Imbolc, Candlemas, Brent Spiner's birthday.
Although Mr. Spiner is best known for playing Lt. Cmdr. Data in Star Trek: The Next Generation and its sequel movies, that is far from his only genre role. He was Dr. Nigel Fenway in Threshold and Dr. Brakish Okun in Independence Day. He was Brother Adrian in Warehouse 13. He's a noted voice actor, the Riddler in Justice League Action, Purple Man in The Avengers: Earth's Mightiest Heroes, and Puck in both the Disney cartoon Gargoyles and the live-action fantasy-adventure The Librarians. He voiced Dr. Gabriel Rylander in Generator Rex. He was the Silver Surfer in Hulk and the Agents of S.M.A.S.H. He was also in Star Wars Rebels as Gail Trayvis – and of course, his first breakout role was a recurring role as the pathetic and cursed-in-this-life Bob Wheeler.
Brent J. Spiner was born February 2, 1949, in Houston Texas. He began his acting career in local theater productions in Texas, before moving to New York City where he often performed off-Broadway. He moved to Los Angeles, CCCA in 1984, becoming a respected character actor in TV and movies until his big break in 1987 as Data.
He is married to Hollywood producer and publicist Loree McBride. They have a teenage son, Jackson Spiner.
February 2, 2019 is Brent Spiner's 70th birthday. We at SCIFI.radio wish him a very happy birthday. Lt. Cmdr. Data is without a doubt his most famous role. Of the many parts he's played on stage and screen, which is your favorite?
-30-

Susan Macdonald
Susan Macdonald is the author of the children's book "R is for Renaissance Faire", as well as short stories in "Alternative Truths", "Swords and Sorceress #30", "Supernatural Colorado", "Barbarian Crowns", "Cat Tails""Under Western Stars", and "Knee-High Drummond and the Durango Kid". Her articles have appeared on SCIFI.radio's web site, in The Inquisitr, and in The Millington Star. She enjoys Renaissance Faires (see book above), science fiction conventions,  Highland Games, and Native American pow-wows.