Fantastic Beasts: The Secrets of Dumbledore is the third movie in the Harry Potter spinoff franchise, but the first full trailer for the new film sends our hero Newt Scamander returning to Hogwarts School of Magic and Witchcraft for the first time, helping recapture the whimsy of the original wizarding movies.
And Newt (Eddie Redmayne) has a few tricks, plus new magical creatures, up his sleeve this time up. He's even contributing to the House Cup by winning 3 points! Awarded by Dumbledore (Jude Law). Along the way they will become embroiled in a magic-related heist and learn more of the backstory between Dumbledore and the villainous Gellert Grindelwald.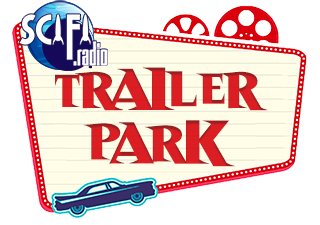 Full Trailer for Fantastic Beasts
Of course a lot has changed since The Crimes of Grindelwald in 2018. For starters, Mads Mikkelsen is now taking over the role of the evil wizard Gellert Grindelwald, who in the last film was portrayed by Johnny Depp, until he was asked to step aside over a scandal with his ex-wife Amber Heard. We got a first look at Mikkelsen in a teaser last week, but here he declares that "our war with the Muggles begins today!" Those evil guys don't quit!
David Yates directs Fantastic Beasts 3, with a script by J.K. Rowling and Steve Kloves. Also starring alongside Redmayne are Jude Law, Miller, Dan Fogler, Alison Sudol, Callum Turner, Jessica Williams, Katherine Waterston and Mads Mikkelsen. 
It will be a matter of time to see how Warner Bros. approaches the marketing campaign and if they will include J.K. Rowling in it, considering the controversy swirling around her. It seems unfair to leave her aside considering it is not only her world, the Wizarding World, and she is also the screenplay writer and a producer. For now let's enjoy the magic created by thousands of artists who love Harry Potter and Newt's world.
Fantastic Beasts: The Secrets of Dumbledore opens in theaters from Warner Bros. on April 15, 2022.
-30-

David Raiklen
David Raiklen wrote, directed and scored his first film at age 9. He began studying keyboard and composing at age 5. He attended, then taught at UCLA, USC and CalArts. Among his teachers are John Williams and Mel Powel.
He has worked for Fox, Disney and Sprint. David has received numerous awards for his work, including the 2004 American Music Center Award. Dr. Raiklen has composed music and sound design for theater (Death and the Maiden), dance (Russian Ballet), television (Sing Me a Story), cell phone (Spacey Movie), museums (Museum of Tolerance), concert (Violin Sonata ), and film (Appalachian Trail).
His compositions have been performed at the Hollywood Bowl and the first Disney Hall. David Raiken is also host of a successful radio program, Classical Fan Club.