The excitement of the week has been the launch of Disney's streaming service, Disney+. With Disney, Pixar, Marvel, Star Wars, and National Geographic now all under one roof for your viewing pleasure, there are now plenty of trending topics on Twitter. While the majority of tweets are for either the service itself, or the highly anticipated Star Wars show, The Mandalorian, a few others are also trending, including one hashtag campaign aimed at relaunching a popular animated series from the 90's.
That hashtag is #KeepBingingGargoyles.
When Disney Plus launched, the hashtag #KeepBingingGargoyles began on Twitter, started by Weisman. According to Weisman's tweet, it was how fans of Young Justice brought back the series, which is currently getting a new season on DC Universe, after the success of the recent season. Not only is Weisman interested in a new series, but Keith David has said that he would love to return as Goliath, saying that the character was one of his most favorite characters. It's also a safe bet that some of the other original actors would be willing to return if a reboot or continuation was offered.
While there is no creator credit listed in the show's credits, several people are responsible for the show's final look. It was Greg Weisman and a few others who had originally pitched the show to Disney as a light, fast paced comedy. Eventually, Weisman and the writing staff developed the series into what made it onto the screen.
Gargoyles originally aired from 1994 thru 1997, originally part of Walt Disney's Disney Afternoon programming block. The series featured six gargoyles, led by Goliath, who, after a thousand years being frozen in stone, awake in modern day Manhattan. They are aided by New York detective Elisa Maza, and come into conflict with billionaire Xanatos, who was aided by Demona, Goliath's former mate, who also sought to destroy all of humanity. Eventually, many joked as a means to sell more toys, more gargoyles joined the group, including Angela, the daughter of Goliath and Demona.
The series was totally different than anything Disney was producing at the time. Instead of the brightly colored fun stories featured in such series as Ducktales, Gargoyles took a slightly more darker tone in both animation and storylines, with many comparing it to Batman: The Animated Series.
Much like Batman, Gargoyles also had an impressive voice cast. Keith David (The Princess And The Frog) provided the voice of Goliath. His fellow gargoyles were voiced by Ed (Lou Grant) Asner as Hudson, Jeff (Johnny Bravo) Bennett as Brooklyn, Thom (Young Justice) Adcox-Hernandez as Lexington, Bill (SpongeBob SquarePants) Fagerbakke as Broadway, and Frank (Scooby Doo) Welker as the dog like Bronx. Salli (Eureka) Richardson was the voice of Elisa Maza, Star Trek: The Next Generation's Jonathan Frakes was the voice of Xanatos, and Marina Sirtis was the voice of Demona. As a bit of geek trivia to share, in addition to Frakes and Sirtis, other Star Trek alumn who provided voices for characters on the show would include Brent Spiner, Nichelle Nichols, LeVar Burton, Michael Dorn, Kate Mulgrew, Colm Meany and Avery Brooks.
The show spent two seasons on the Disney Afternoon block, a third season, entitled Gargoyles: The Goliath Chronicles aired Saturday mornings on ABC. The third season's storylines and continuity was totally different from the previous seasons.
In addition to the series and toyline, there was also comic book series from four different comic book companies over the years, and a video game. A live action feature film has also been discussed since the series first aired, most recently with Jordan Peele rumored to be interested.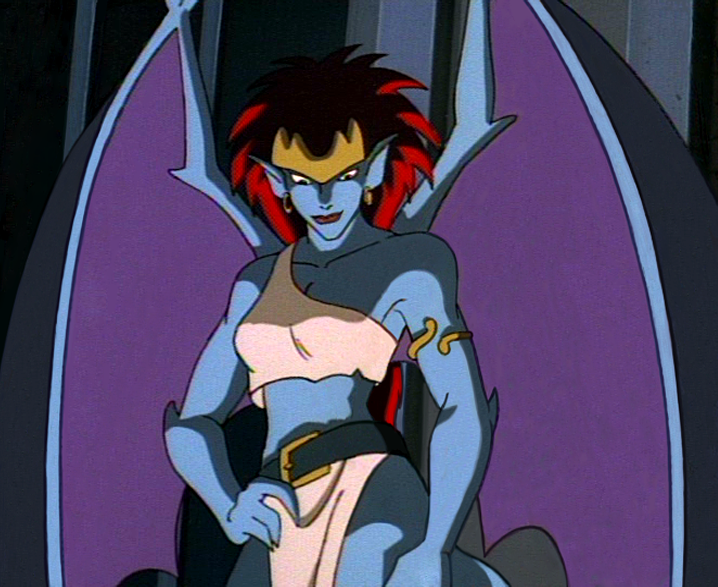 And now, with this new Twitter campaign, we have a chance to help make "Geek History". If you happen to be subscribing to Disney Plus, by all means, add Gargoyles to your watchlist, and watch. And even if you don't have the service just yet, help spread the word. Use the #KeepBingingGargoyles to show your support.
And maybe, just maybe, we'll hear Goliath once more say, "WE LIVE AGAIN!"
Now about that Spin And Marty reboot …
-30-