During the Star Wars Rebels panel at Star Wars Celebration on Saturday, an extended trailer was shown for Season 2 of the Disney XD animated series. Here it is! Before you watch it, take a moment to temporarily turn off the SCIFI.radio stream using the controller in the upper right.
At the panel were a number of the cast and crew, including Freddie Prinze, Jr. (Kanan), Vanessa Marshall (Hera), Tiya Sircar (Sabine), Steve Blum (Zeb), and Taylor Gray (Ezra), and Dave Filoni (Executive Producer, Supervising Director).
Star Wars Rebels details the events between the third and fourth episodes of the Star Wars saga, and tells the story of a small resistance cell, the crew of the starship Ghost. Led by Kanan, a Jedi, and accompanied by Ezra, his padawan, they fight the good fight against the Empire, battling colorful adversaries and embark on thrilling adventures.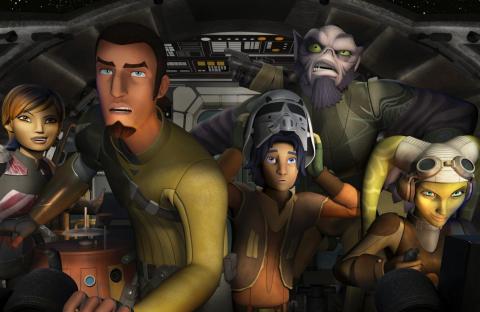 In the new season, the Rebel cells begin to coalesce and find each other, and more Jedi come forward. The stakes are higher, of course, now that the Empire realizes that the Jedi pose a serious threat. Lothal becomes a hotspot as the Empire sends forces there to root out the Rebels.
It looks like it's going to be a fun ride. The new episodes of Star Wars Rebels begin airing on Disney XD on April 18 – which, come to think of it, is today.
– 30 –

SCIFI Radio Staff
SCIFI.radio is listener supported sci-fi geek culture radio, and operates almost exclusively via the generous contributions of our fans via our Patreon campaign. If you like, you can also use our tip jar and send us a little something to help support the many fine creatives that make this station possible.