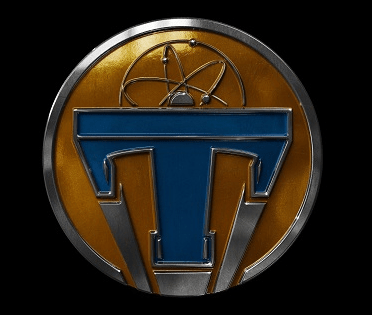 In August 2013, Brad Bird and Damon Lindelof did an odd, mystery-shrouded promo at the Disney D23 Expo in Anaheim, California, where they brought an old box supposedly found at their studio's archives and containing items that inspired the story they wrote for their upcoming movie, Tomorrowland. Among them are a (doctored) photo of Walt Disney and Amelia Earhart allegedly taken in 1945 (she disappeared in 1937), an old copy of the sci-fi magazine Amazing Stories from 1928, and a blueprint for the "It's a Small World" attraction at the World's Fair in 1964. Since then, details about the movie have been scarce, and all we know so far is that it is about a secret futuristic place, where the protagonists travel (and presumably, have an adventure).
Yesterday, we got a first look at Disney's secretive new sci-fi movie project. The film is directed and produced by Bird, and we meet two of the protagonists in the first teaser trailer to the movie. Britt Robertson plays Casey Newton, whom we see in the trailer as a youth grumpily collecting her things at the police station. She then touches a mysterious pin that teleports her to a field overlooking a huge, fantastic city. Then we see George Clooney, asking someone if they want to go to a "secret place where nothing is impossible." Lastly we see Casey Newton in the futuristic city, and a person wearing a jetpack whizzes past her.
We still don't quite know what the movie will be about, but Lindelof has told Entertainment Weekly that Tomorrowland is like the "Hogwarts of science." From what I've seen, I get vibes of the TV show Eureka, which is also about a secret town full of fantastic science. It is interesting to see how the story will unfold, as it is said to be inspired by early 20th century sci-fi stories. Perhaps there will be a retro-futuristic element to it.
The film will also star another former TV doctor, Hugh Laurie. Other cast members include Raffey Cassidy, Kathryn Hahn, Tim McGraw, Keegan-Michael Key, Judy Greer and Gary Chalk. The movie is set to be released on May 22, 2015.
From years in the future: It is said of Tomorrowland, either you get it, or you don't. If you believe in the inherent power and the good that can flow from imagination, then you must see this film.
-30-
Nur Hussein
Nur is a tinkerer of programmable things, an apprentice in an ancient order of technomages. He enjoys fantasy, sci-fi, comic books, and Lego in his spare time. His favourite authors are Asimov and Tolkien. He also loves Celtic and American folk music. You can follow him on twitter: @nurhussein