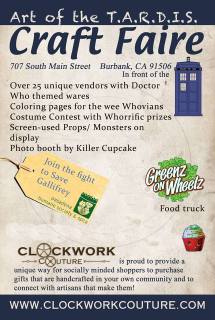 Calling all Whovians! This Saturday, March 15, 2014, Clockwork Couture is having a do. The Art of the TARDIS, a Dr. Who-themed event which started out as a simple craft faire, has grown into a full-tilt fun-fest for the whole geeky family!
In addition to the 25+ art and craft vendors (including The Magic Haberdasher, Tiki Machine, and Aimee Major Steinberger), Clockwork Couture will be debuting new exclusive merchandise at the event. Prop designer Greg Aronowitz will be there with is radio-controlled Dalek, and there will be screen-used props and monsters to check out, and Awesome City Limits will be on hand with live music from about 2-4:00 p.m.! Food will be available at the event, from Greenz on Wheelz.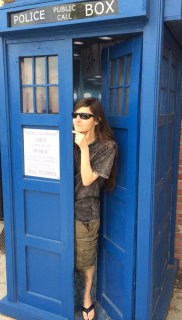 It's also a great opportunity to show off your Whovian finery, as there will be a costume contest for Best Doctor, Best Alien, and Best Companion, with "Whorrific" prizes from Clockwork Couture. Killer Cupcake photography will be using the TARDIS as a photo booth, and attendees can get a professional photo with the TARDIS for just $5.
The Pasadena Humane Society has re-named one of its most at-risk dogs "Gallifrey,"and visitors The Art of the TARDIS can purchase raffle tickets and make donations toward saving Gallifrey throughout the day. The raffles baskets include donated items from the vendors at the event, so you know there will be loads of great Whovian treasure! Anne and Wil Wheaton have also donated signed photos of themselves in the TARDIS, which will be given to the first 25 attendees who donate $40 or more toward saving Gallifrey.
The Art of the TARDIS runs from noon to 6:00 p.m. on Saturday, March 15, 2014, at Clockwork Couture, 707 South Main Street, Burbank, California.
This will be a fixed point in time. Don't miss it!
-30-

SCIFI Radio Staff
SCIFI.radio is listener supported sci-fi geek culture radio, and operates almost exclusively via the generous contributions of our fans via our Patreon campaign. If you like, you can also use our tip jar and send us a little something to help support the many fine creatives that make this station possible.